Latest News
October/November 2018 - Box Sets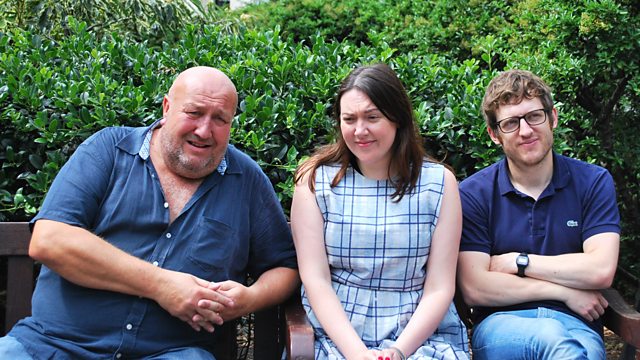 Ankle Tag - A brand new series of the sitcom I co-write with Benjamin Partridge starts on BBC Radio 4 on Wednesday 31st October at 6.30pm - and will then be available online immediately afterwards.
It starts Elis James, Katy Wix and Steve Speirs (pictured) and right now, thanks to BBC Wales' Festival Of Funny, all of series 1 is online too - The perfect opportunity to mainline the lot and really put this new BBC Sounds app through its paces.

Tourist Trap -The semi-improvised sketch-show set in a fictionalized version of the Welsh tourist board and starring pretty much everyone you like (pictured) has had the Box Set treatment from BBC Wales. As such every episode - including the ones that haven't even appeared on a proper telly yet - are available on the website now. Together with Sian Harries and Tudur Owen, I'm part of the main writing team for the show and I also provide the voice over - So when looking at the promotional photo of the show over on the left, imagine it's my voice reading all the bumph.
Gareth Gwynn's Twisted History of BBC Radio Wales
- I've just finished work on a brand new two-part edition of Twisted History, this time celebrating 40 years of BBC Radio Wales. The show is presented by me (pictured) and features Elis James, Nadia Kamil, Lynn Bowles and a healthy mixture of archive recordings taken out of context, or archive recordings in their correct context but sounding equally ridiculous. The episodes will be broadcast on the 5th and 12th of November and will be online afterwards.

And finally, I'm pleased to say I've been nominated for the
Gethin Thomas Comedy Award at this year's Audible Audio Production Awards. Having just checked, none of the shows which made-up my award entry are available online, but a short animation released to promote Just A Minute 50 Years In 28 Minutes is still on the show's webpage, so it's a handy excuse to pop that on the blog again...
October 2018 - Tourist Traps
On Tuesday, episode one of The Tourist Trap will be broadcast on BBC One Wales.
The improvised sketch show set in a fictionalised version of the Welsh tourist board stars Sally Phillips, Mike Bubbins, Elis James, Mari Beard, Tom Price, Tudur Owen, Sara Lloyd-Gregory, Leroy Brito, Sarah Breese and just bloody loads more really great people.
I'm on the main writing team for the show, together with Tudur Owen and Sian Harries, although "writing" is such an odd description for how this programme is actually put together.
As a semi-improvised show, Sian, Tudur, and I created a bunch of characters and, together with with other writers, outlined reams and reams of funny situations, awkward encounters and horrible predicaments we could put them through. The full 200+ page document really is the stuff of nightmares.
Then, months later, we got sent a Vimeo link and the chance to see what happened, how people coped and what got scaled down for budgetary reasons. Honestly, I imagine this is exactly what it's like to be God.
Tourist Trap is part of BBC Wales' Festival Of Funny which sees sitcoms and stand-up appear all over BBC Wales' radio and television stations. As part of it all Ankle Tag, the sitcom I co-wrote with Benjamin Partridge starring Elis James, Katy Wix and Steve Spiers, is being repeated on Monday nights on BBC Radio Wales (and on iPlayer afterwards) - so you can catch up with Series 1 ahead of the second series appearing on BBC Radio 4 in November.
Also on the BBC Radio Wales website right now is my documentary about holidaying in Wales, Welsh Under Canvas. It's not strictly part of the Festival Of Funny, but it does feature tourism - something which is fast becoming the overlap in the Venn diagram of my recent work for BBC Wales.
And also available right now as a BBC podcast is Felicity Ward's Appisodes - a show which I script edited that was broadcast earlier this year. The new "Flip" feed acts as a chance to download BBC radio comedies as a box-set, meaning all four episodes of the show are available right now.
I've got loads more exciting stuff coming out soon too, but I'm writing this in a coffee shop and with very low battery so details on that, and proper photos to do with the above will just have to wait.