Podcasts & Videos
On this page, you'll find some of the radio shows, TV shows, podcasts and videos I've appeared in or worked on. I'll use the blog on the front page to flag up anything new, but these are links to bits and bobs that won't expire after only 30 days. Apologies in advance for any broken links - The internet is built on shifting sands.
Ankle Tag - BBC Radio 4
"Ankle Tag" is a sitcom on BBC Radio 4 written by Benjamin Partridge and I and stars Elis James, Katy Wix and Steve Speirs. Both series are currently available on BBC Sounds and an episode from Series 1 (plus an interview with Elis and I, conducted by Cariad Lloyd) has crept up on YouTube.
In the event that that link is torn down, this official BBC clip of the interview should survive:
Gareth Gwynn's Alternative Archive - BBC Radio 4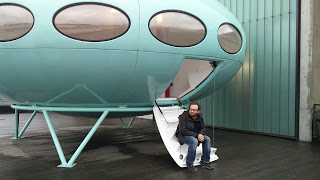 Kicking-off with an actual scientist explaining the Many Worlds theory, Gareth Gwynn's Alternative Archive was the first Archive On Four to look, not backwards, but sideways - as we listened-in to radio stations from alternative universes and other dimensions.
It's an hour, which is quite long - but there are 113 other voices in it - so I'm pretty well diluted.
Tourist Trap - BBC One Wales
Tourist Trap is a semi-improvised sitcom in which I supply the voice over as well as co-write the plots, together with Tudur Owen and Sian Harries. A rugby special and second series have been commissioned but, in the meantime, a collection of clips are available on the show's webpage.
Documentaries - BBC Radio 4
I have presented three documentaries for BBC Radio 4 examining Welsh identity, language, culture and politics, all of which are still available on the BBC Radio 4 website.
"Gareth Gwynn's Little Book Of Welsh Independence" was broadcast in 2014, ahead of the Scottish Referendum and was nominated for a Celtic Media Award in the Best Documentary category.
"Gareth Gwynn's Little Book Of Welsh Rock" was broadcast in 2015 and continues to cost me a fortune in records.
"The Greatest Ever Faker" told the story of Iolo Morganwg and was selected for the Prix Marulic International Radio Festival in Croatia, which meant it was played inside a deconsecrated church in Croatia. Or it wasn't. That's the problem with making a programme about forgery. I don't trust anything any more.
Just A Minute: 50 Years In 28 Minutes - BBC Radio 4
I produced this show for BBC Radio 4 to celebrate 50 years of Just A Minute, cutting together archive episodes and creating exchanges between panellists that could never have happened in real life.
The Beef And Dairy Network - Podcast
I appeared on episodes 23 and 41 of Benjamin Partridge's bovine-centric comedy podcast, The Beef And Dairy Network, as archivist Alex Neon. Around the time of my second appearence, I'd been working on quite a few archive shows and Ben interviewed me on the subject but asked me to change the words "BBC Radio Wales" for "Beef". Apart from that, it's all pretty accurate...
Bull - Gold
John-Luke Roberts and I created and wrote this sitcom for Gold starring Robert Lindsay, Maureen Lipman, Naz Osmanoglu and Claudia Jessie. Here's a playlist which includes the trailer, a behind the scenes feature and some best-bits.
Someone seems to have crept the whole series up online, too. No idea how long this will be here for but, in the meantime, here's a playlist. Episode 3 is my favourite.
Also, in episode two, Rupert Bull mentioned his website, so do make sure you check it out.
The Now Show - BBC Radio 4
I have appeared on The Now Show four times times, most recently during BBC Local Radio's 50th Birthday Celebrations...
Audio from my first three appearences are on this Audioboom playlist.
Sue Perkins' Earpedia - Audible
Sue Perkins presents facts about animals, with assistance from Margaret Cabourn-Smith and Simon Kane, in this Audible Original series which I wrote with Gabby Hutchinson-Crouch, Jon Hunter.
Sue Perkins' Earpedia Series 1: Animals
Sue Perkins' Earpedia Series 2: Plants
Dave Berry Breakfast Show - Absolute Radio
I wrote this video to mark the launch of The Dave Berry Breakfast Show on Absolute Radio, featuring... Actually, I won't say who's in it. That really is half the fun.
The Gareth Gwynn Show - BBC Radio Wales
I was a regular presenter on BBC Radio Wales for seven years. A handful of best-bits can be found on my BBC Radio iPlayer page and there are more best bits from my Sunday Shows, Saturday Shows and assorted "looks back at the year" on this Audioboom playlist.
The Today Programme - BBC Radio 4
During the 2017 Craft Of Comedy Conference in Llandudno, I was interviewed and subsequently appeared on The Today Programme, where I sounded thoroughly bored of Brexit. The audio was turned into a written article on the BBC News website
Exploding Brain Myths - Brain Awareness Week Campaign
As part of Brain Awareness Week, I was asked to provide the voice over to these lovely videos all about how your brain works (or doesn't work) written by Jon Hunter, drawn by Henry Paker and animated by Matt Partridge.
The News Quiz - BBC Radio 4
Having written gags for The News Quiz since 2009, I got to make this montage for the end of Sandi Toksvig's final show. There are certainly worse ways to spend a day than listening to 9 years of News Quizzes. And then, once I was finished, I put all the master tapes in the wrong boxes to really screw things up for the next person who tries.
Gareth Gwynn's Twisted History Of BBC Wales - BBC Radio Wales
In 2014, BBC Wales Television celebrated its fiftieth anniversary. To celebrate, I made a programme about 90 years of radio, and the BBC were too polite to ask for the money back. These are some of the best-bits.
The XFM Breakfast Show With Jon Holmes - XFM London
From 2013-15 I devised features and contributed topical gags, fake news stories, one-liners and sketches to this daily breakfast show. Podcasts and best bits can be found here.
Passing On - BBC Radio Wales
A short behind the scenes video about this sitcom series I wrote starring Keiron Self, Richard Ellis, Melangell Dolma, Katy Wix and Felicity Montagu and produced by Benjamin Partridge for BBC Radio Wales.
An article about the show was printed in the Western Mail.
I Love Wales - BBC One Wales
I wrote and presented the archive TV sections of this St David's Day show.
Armstrong And Miller - BBC One
This one was mine.
Do The Right Thing - Podcast
I was a panellist on Series 3, Episode 7 of this podcast - but make sure you listen to them all because they're great.
The Roop And Tom Breakfast Show - XFM South Wales
Highlights from XFM South Wales' Breakfast Show...
Prior to their unsuccessful attempt at the world record for the fastest human wheelbarrow (100m), I oversaw Roop and Tom's demanding training regime:
Another failed world record attempt. This time, the number of eggs held in a single human hand. I'm afraid that this time round, the failure was partly my fault...